CakeBoxx Receives NDTA Award
CakeBoxx Technologies has been presented with the 2022 Corporate Distinguished Service Award
CakeBoxx Technologies was presented with the 2022 Corporate Distinguished Service Award at the NDTA Annual Meeting and Awards ceremony. This award recognizes corporate members that have provided outstanding service in support of NDTA's goals and programs at the local and national levels.
"The CakeBoxx Team has a long-standing relationship with NDTA and the US Government's national security mission. We are dedicated to continuous support of NDTA, its stakeholders and the ongoing effort to provide excellence and innovation executing complex defense logistics, transportation and storage challenges. We focus intensely on developing cost-effective and safe transportation and storage platform and storage solutions for our nation's most important high value, high Consequence, mission essential Cargo." said CakeBoxx Technologies Founder and CEO Daine Eisold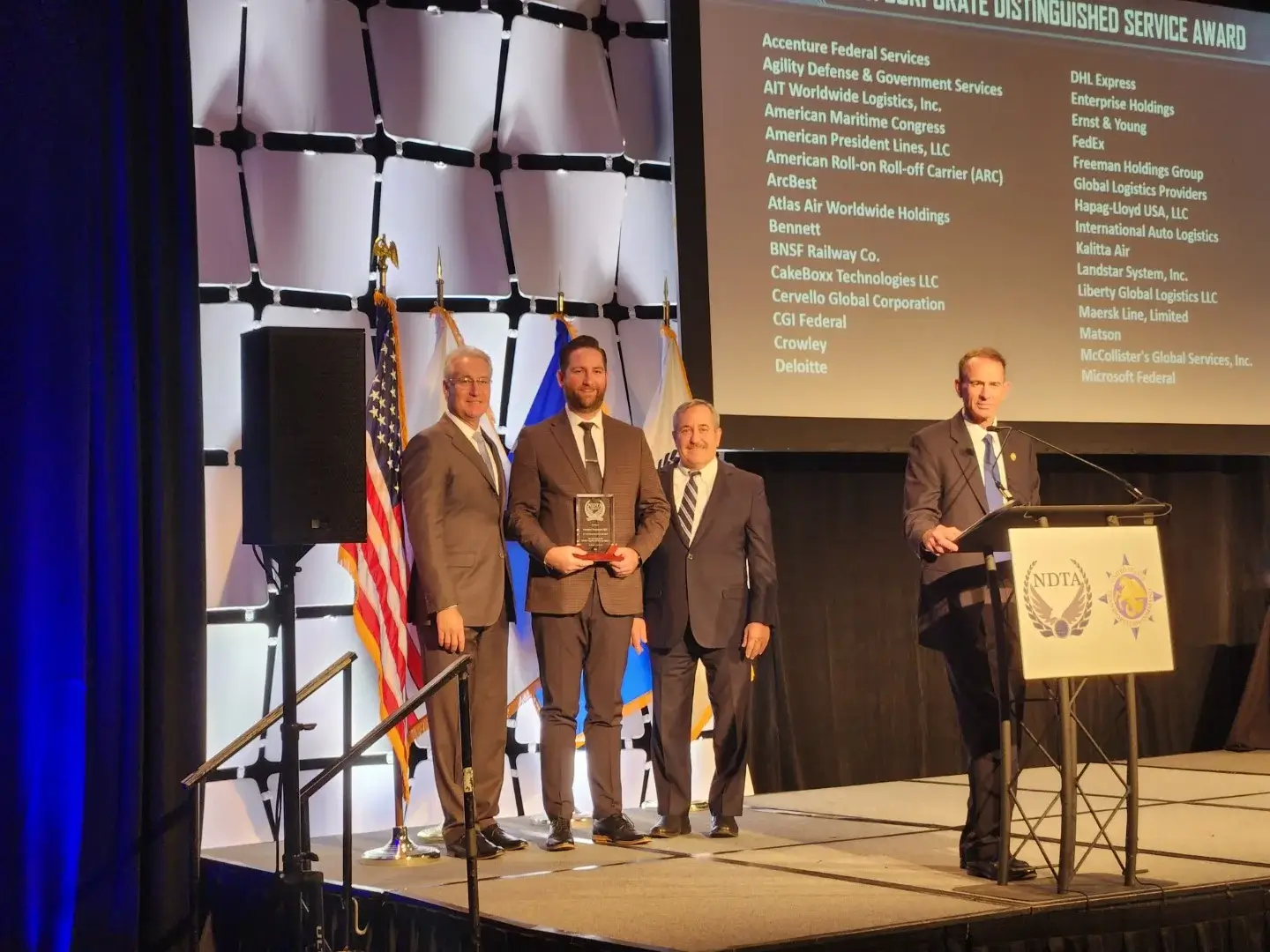 CakeBoxx Operations Manager Justin Singer accepted the award at the historic St. Louis Union Station Hotel, during the 
NDTA-USTRANSCOM Fall Meeting
.
CakeBoxx Technologies
CakeBoxx Technologies designs, architects and builds specialized transportation and storage solutions for high-value, high-consequence, and mission-critical cargo.
The National Defense Transportation Association
"Since World War II, the National Defense Transportation Association (NDTA) has served our country's national defense and homeland security as a trusted environment where government, military, and private sector professionals can solve pressing challenges in the fields of logistics, transportation, and passenger travel services.
NDTA is a non-political, non-profit educational organization. Our three priorities are to:
Maintain that "trusted environment" by facilitating strong working relationships, education, and the exchange of ideas

Invest in programs and capabilities that provide value to our corporate and individual members, and help develop the next generation of professionals

Serve the broader national security interest through a new focus on all government stakeholders in logistics, transportation, and passenger travel"