Sustainability
CakeBoxx is a World Leader in Sustainable, Optimized Supply Chains for
High-Value, High-Consequence, and Oversized Cargo
sus·tain·a·bil·i·ty:
Avoidance of the depletion of natural resources in order to maintain an ecological balance and preserve nature
Most sustainability plans focus on: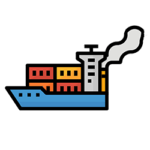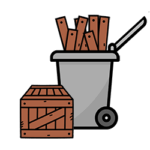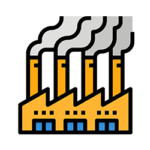 CakeBoxx delivers on all three and more…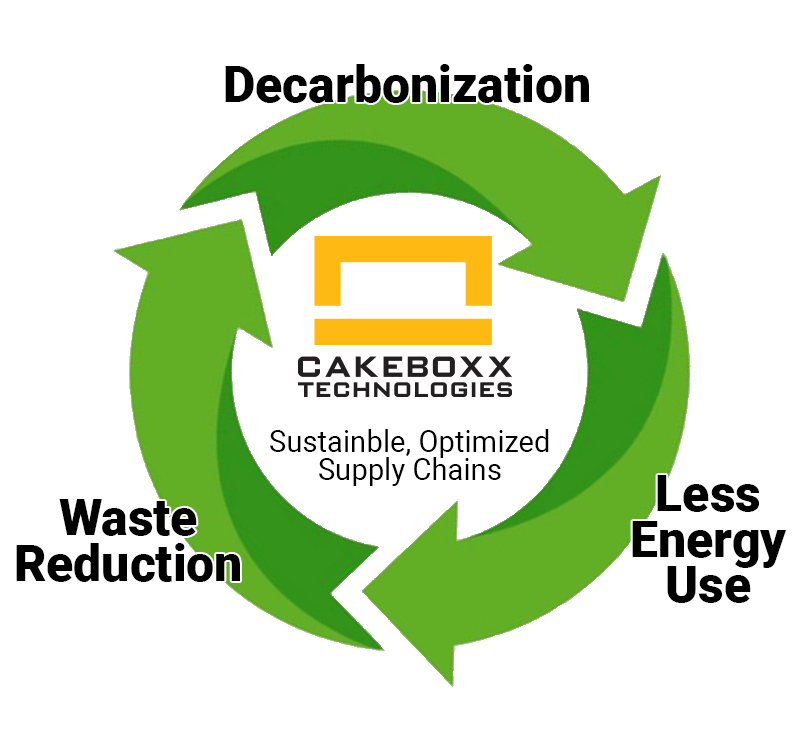 "The regulatory environment is driving increasingly stringent, mandatory requirements; thus, sustainability is now as critical to an organization's success as profitability and financial performance.

Daine Eisold

Founder and CEO, CakeBoxx Technologies
We conceptualize, design, and build comprehensive solutions that deliver…
Reduced costs, waste, and carbon footprint
Access to green shipping modalities and streamlined supply chains
Improved performance logistics, environmental impact, and sustainment
Safer operating environment for your workers
Accelerated delivery times
Zero Defect deliveries that improve quality and eliminate rework/return shipping
Highly engineered securements and safety locks deliver safer transport and handling
End-to-end supply chain
sustainability and optimization
CakeBoxx utilizes a "design for sustainability" approach. This enables improvements in operations & profitability, while still delivering your organization's critical sustainability goals.
Decarbonization
Supply chain improvements that deliver reduced carbon emissions for cargo owners, BCOs, and 3PLs
Access cheaper, faster, transport
Historically, shippers and 3PLs had to use limited, costly, and carbon-heavy breakbulk and RORO shipping methods.
Now, CakeBoxx's custom supply chain solutions and transport platforms (with or without CakeBoxx's patented, protective lid) enable high-value, high-consequence, large, and unusually sized items to be transported more efficiently and access faster, more sustainable shipping optionality.
Transport more with less
Importantly, all CakeBoxx platforms and containers are ultra-strong and engineered to carry significantly more weight than traditional methods. As a result, shippers can maximize cargo volume, densifying the shipment and eliminating wasted space.
This reduces the requirement for additional containers or platforms in any routing during SCO and SCM, delivering an immediately improved carbon footprint and a significant decarbonization over time.
Decarbonization of entire supply chain
Access to faster, less costly, lower carbon footprint shipping modalities
Fewer containers/transport platforms (reduces usage of raw materials/fuel)
Elimination of dunnage and dunnage disposal
Zero defect deliveries that eliminate multiple shipments of damaged, replacement, or repaired cargo
CakeBoxx two-piece standard & custom containers integrate seamlessly into global supply chains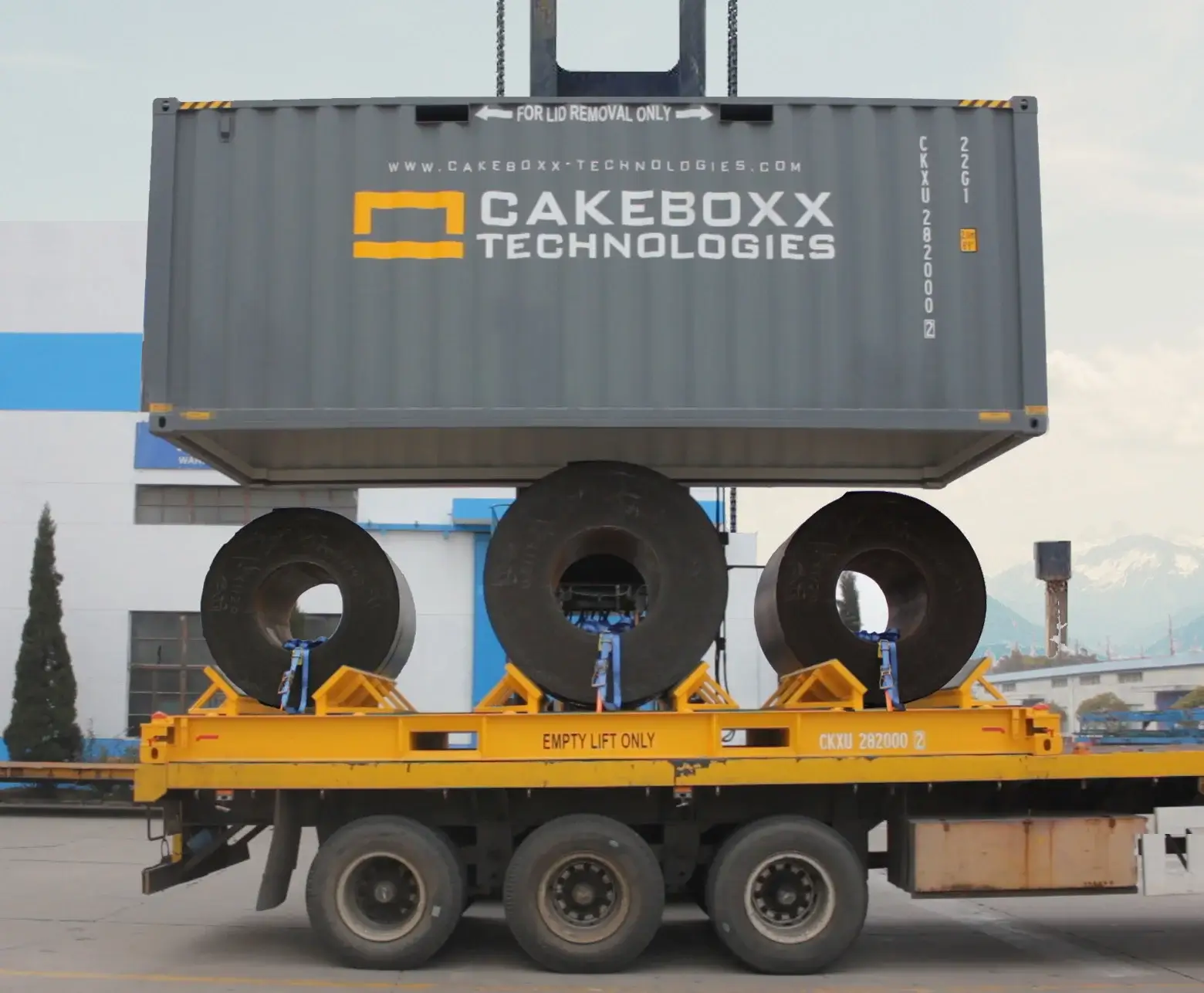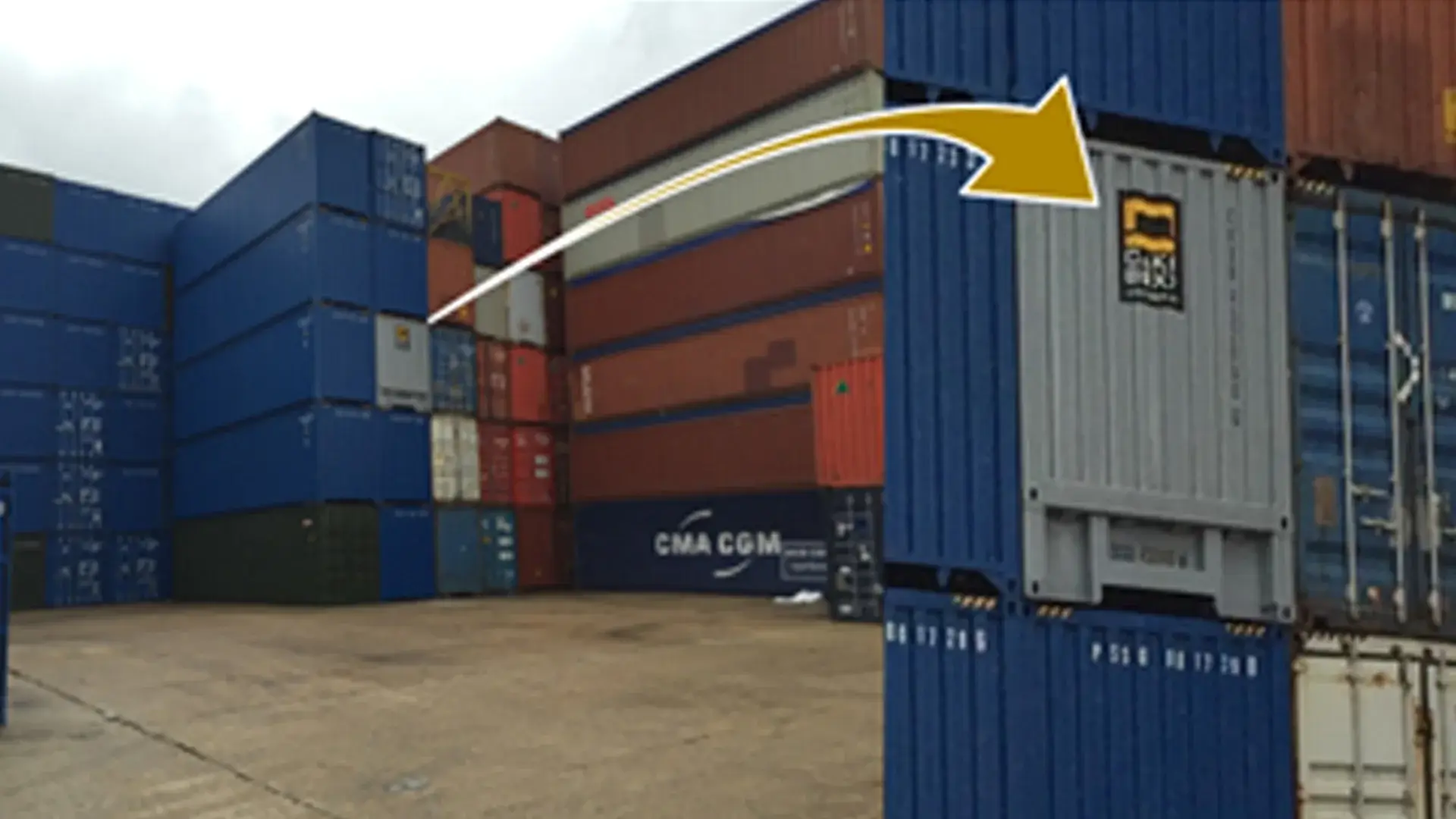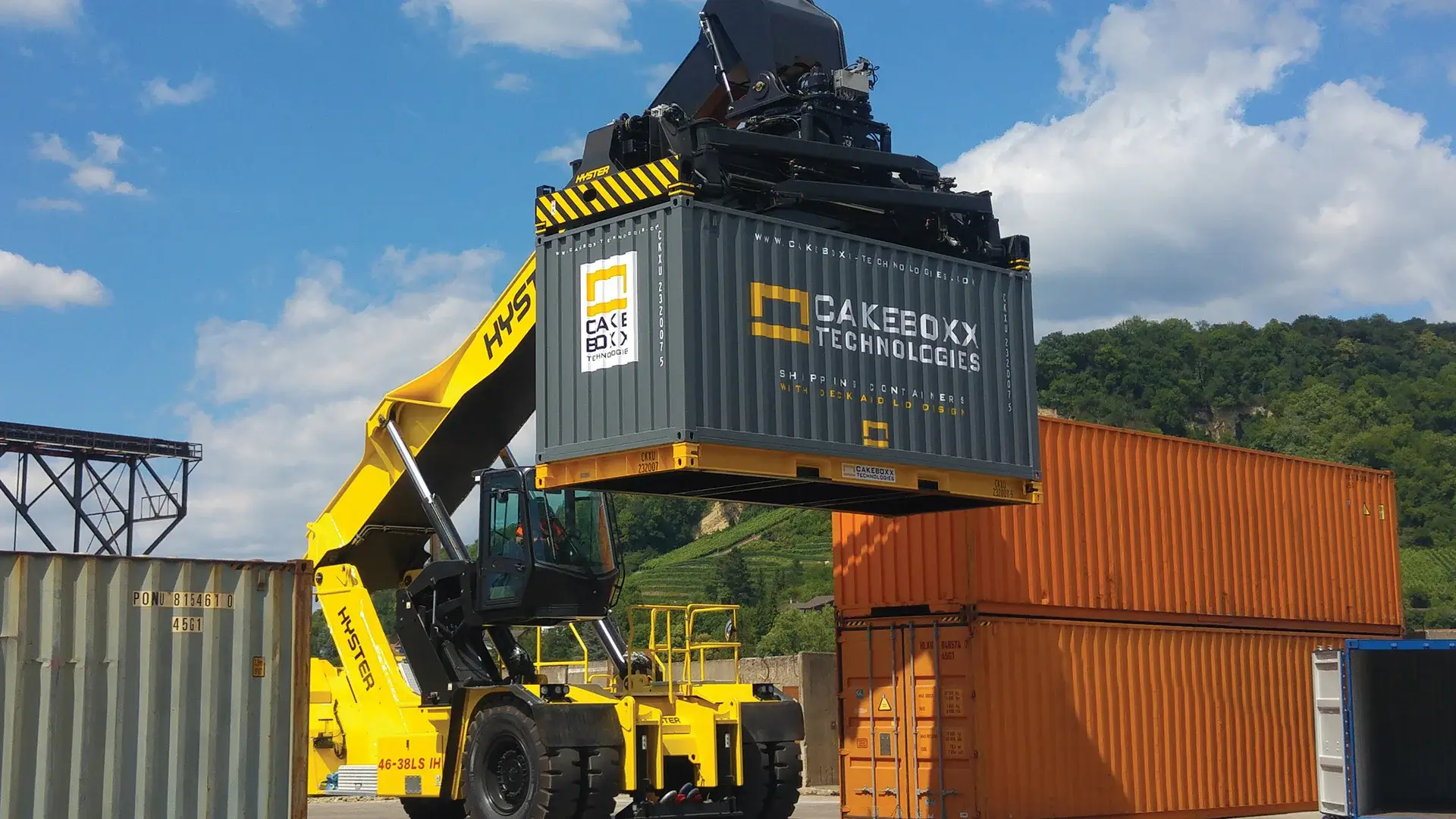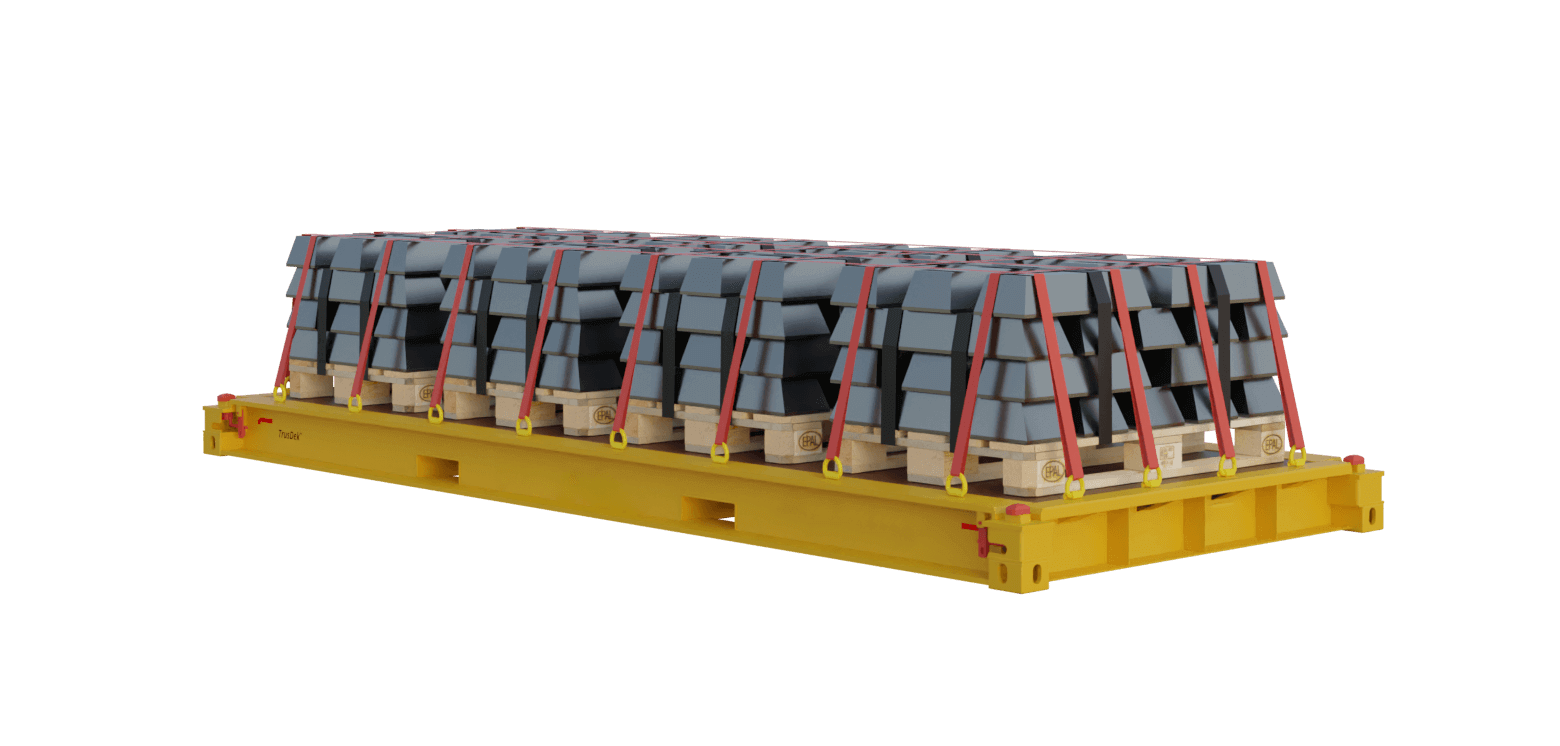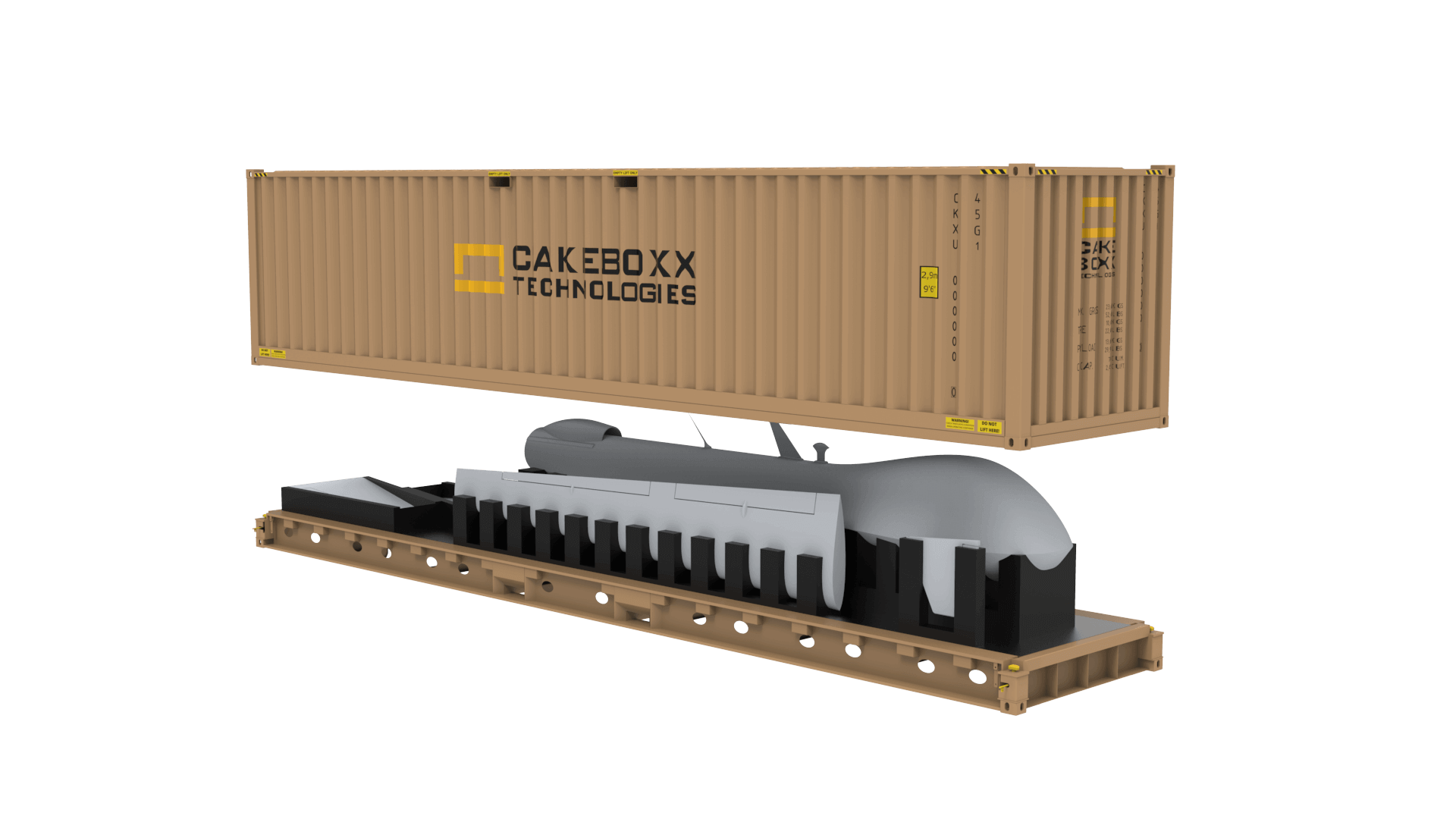 Waste Reduction
Custom securements eliminate dunnage, reduce costs and drive sustainability
CakeBoxx customized containers and platforms are both protective and efficient, eliminating significant dunnage, crating, and non-recyclable packaging materials, but they also enable Zero Defect deliveries, which is a huge advantage for an organization's value chain. This means no need for multiple shipments of damaged, replacement, or repaired cargo, which contributes to a huge reduction in environmentally damaging waste (as well as reduced CO2 and energy use).
CakeBoxx's tailored Perimeter Tie Down System (PTS™)
CakeBoxx Technologies' custom securement devices and flush-mounted, heavy-duty D-rings provide a wide array of lashing options to secure any cargo and are the ideal sustainable alternative to wasteful dunnage.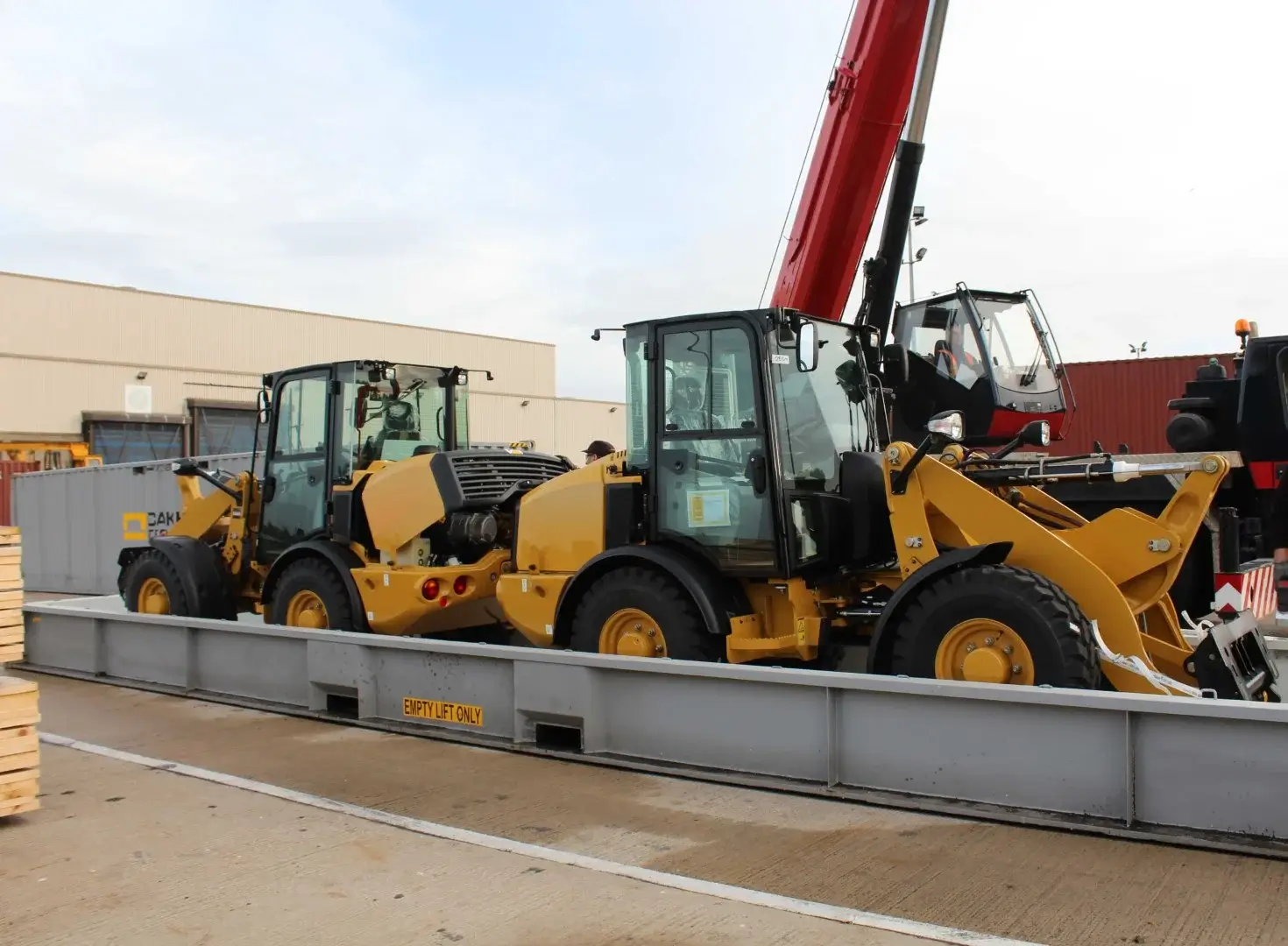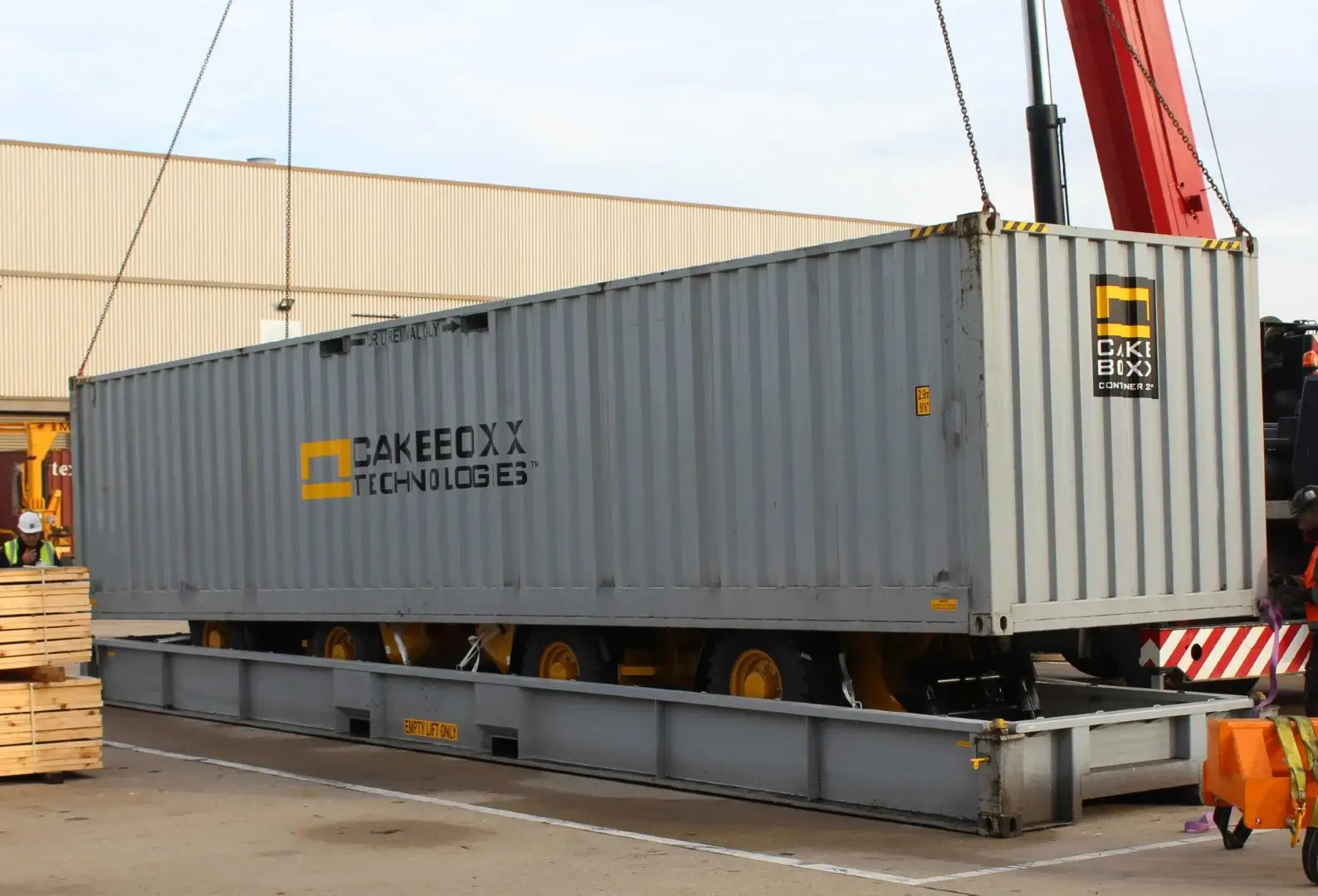 Improved Sustainability and Environmental Impact for World Leading Heavy Equipment OEM
CakeBoxx dramatically reduced costs, number of shipments, and delivery times while improving sustainability
Significantly reduced energy usage and costs
Eliminated dunnage and waste of raw materials
Eliminated round-trip shipping of additional transport containers
In their historical transport approach, the customer's completed heavy equipment units were QA certified, then the original wheels were removed and replaced with smaller travelling wheels so the units could fit inside a standard container.
Next, they lined the container with dunnage (wood) to add protection to both the equipment and the container itself, spreading the weight of the load for transport. The large, original wheels needed to ship in a SEPARATE, second container.
At the final destination, the two containers had to be reunited, the traveling wheels had to be uninstalled and the standard wheels reinstalled. The units then had to be RECERTIFIED for sale. The traveling wheels needed to be reloaded into a container and returned to their original destination. The customer also had to dispose of the wooden dunnage, which was not fit for reuse or resale.
This high number of touchpoints, movements, and materials was an extremely costly and time-intensive endeavor for our customer.
CakeBoxx designed and delivered a transformational supply chain solution that significantly reduced energy usage and transport costs, while eliminating waste and round-trip shipping of additional transport containers:
The CakeBoxx Design & Engineering Team utilized our incredibly seasoned experts in Supply Chain Optimization (SCO) and Supply Chain Management (SCM) to evaluate the end-to-end challenges in this process and designed a custom transport solution that enabled the entire units to be loaded into a highly secure transport solution that offered complete protection, delivering them in 100% newly manufactured condition.
This SAVED significant time and labor costs, and prevented product and container damage through proper securements to the ultra-strong CakeBoxx deck, removing the requirement for expensive and wasteful dunnage.
Our solution COMPLETELY ELIMINATED the need for a second container. The CakeBoxx two-piece container design enabled the utilization of all internal space, allowing multiple units to fit in one container. This dramatically reduced round trip shipping costs including shipping temporary wheels BACK to the factory.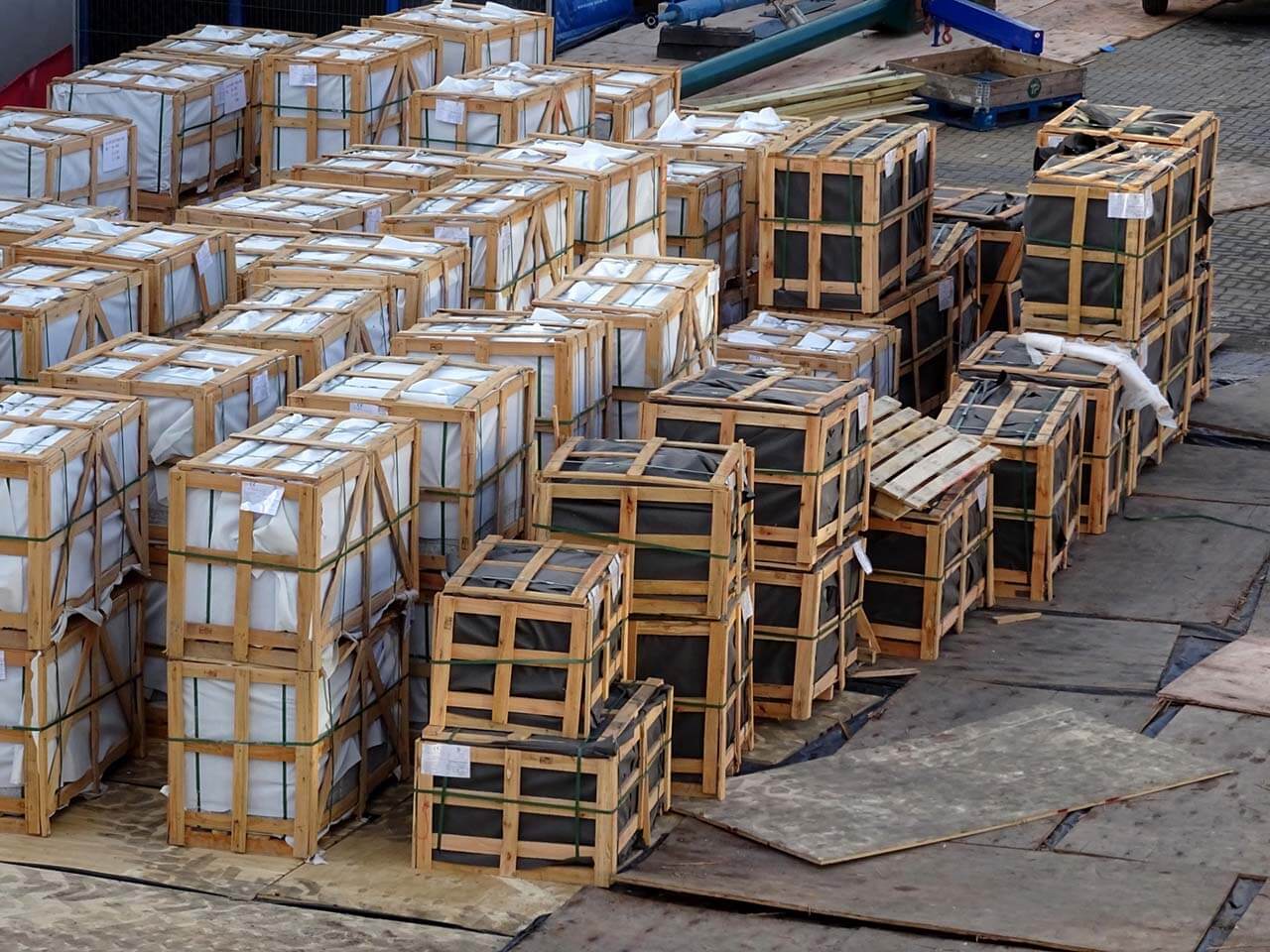 Eliminate Crating and
Reduce Handling
For safer shipments, with less handling
CakeBoxx custom two-piece containers seamlessly integrate into global container logistics.
Historically, large, sensitive, or unusually shaped cargo had to be transported in crates. This is not only costly and wasteful in terms of wood, dunnage, and labor required to crate them, but each instance of handling adds complexity, time, costs, and likelihood of damage.
The ideal method of shipping is containerization and CakeBoxx enables large, oversized, and hard-to-transport cargo to be containerized. In fact, CakeBoxx works closely with every customer's team to develop optimized, sustainable supply chain solutions.
Less Energy Use
Lighter weight, stronger, green transport solutions that lower energy use and costs
CakeBoxx enables more fuel-efficient transport of cargo in several ways. Our entire transportation product line of container and platform solutions is designed for maximum cargo velocity, which minimizes the necessity for handling and often reduces touch points. This means forklifts and other handling machinery spend much less time burning fuel in operation. With the 360° easy top and side loading access offered by the deck portion of our two-piece containers, we call this "Approachable Cargo".
CakeBoxx Technologies has been a pioneer in the use of Vacuum Insulated Panels (VIP) for containers. Insulated versions of our containers use this technology to control temperature excursions for temperature-sensitive cargo. This often means a greener supply chain where cargo can be kept within the required temperature range for the duration of a movement without costly and energy-intensive mechanical refrigeration equipment.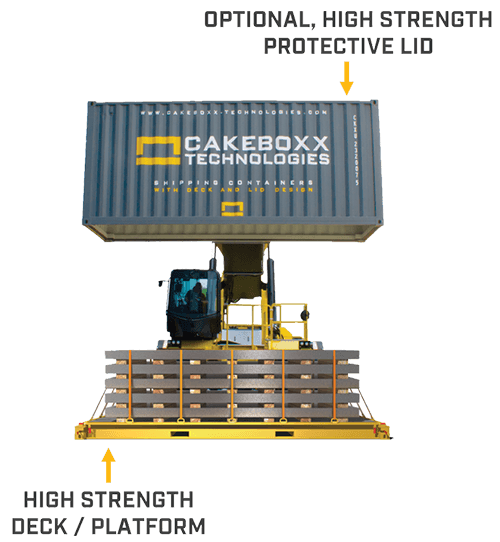 Circularity and Regenerative Systems
Enabling growth and resilience
What is a circular supply chain?
In a circular supply chain, products and components are reduced to their raw materials state and remade into products that can be sold. This enables manufacturers to deliver the sustainability benefits (environmental, energy, waste, carbon footprint) of recycling while recovering costs and usable materials in the process. The win-win nature of this model is growing in popularity, with virtually all leading global multinational corporations and government regulations driving efforts to improve their sustainability efforts and 70% of supply chain leaders planning to invest in the circular economy* (*Gartner 2020 survey on the circular economy).
Regenerative systems and aquaculture
CakeBoxx Technologies is now using its supply chain systems engineering leadership experience and its game-changing modular platform technology to transform Regenerative Agriculture and Aquaculture to support global food sustainability goals.
By applying revolutionary innovations and specialized engineering that unlocked significant value for the wind energy, steel, defense, aerospace and specialty manufacturing markets, CakeBoxx Technologies is now able to help transform the regenerative agriculture and aquaculture industries to deliver fresh, nutritious food supplies locally around the world.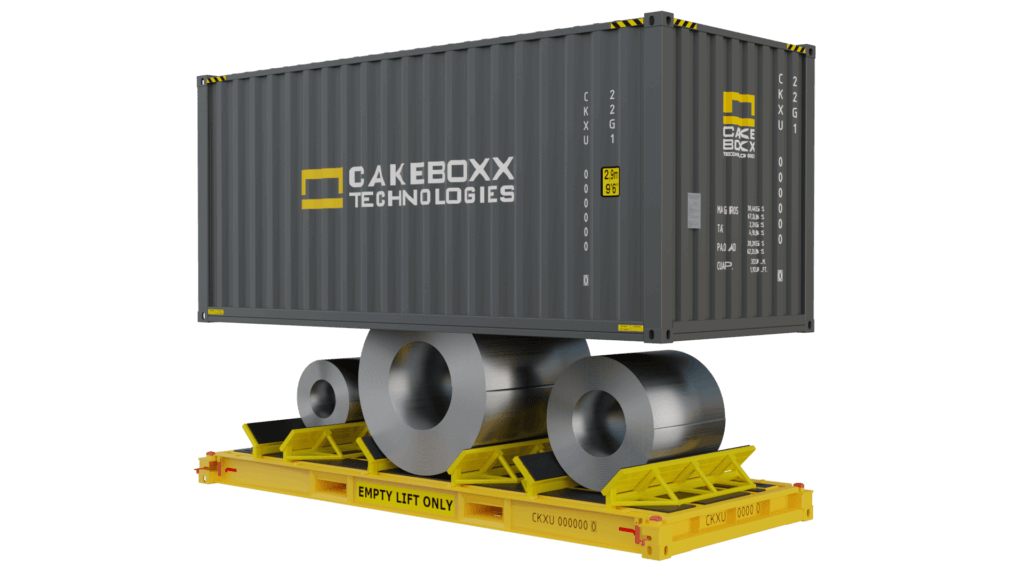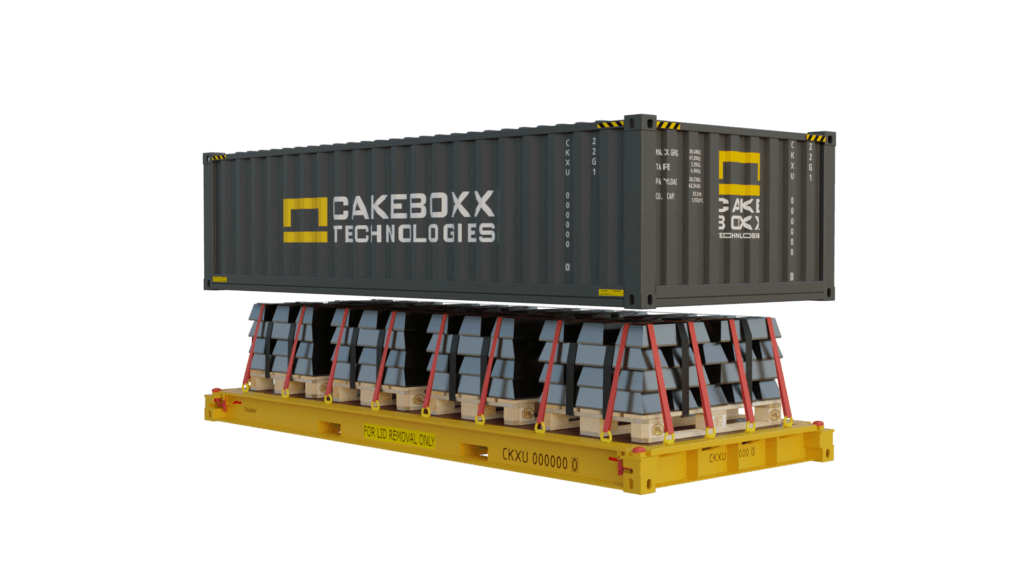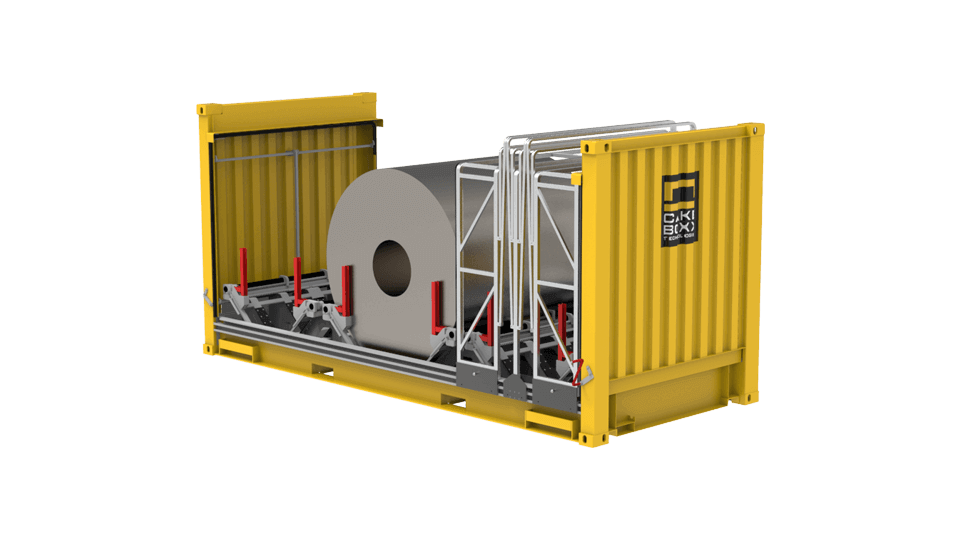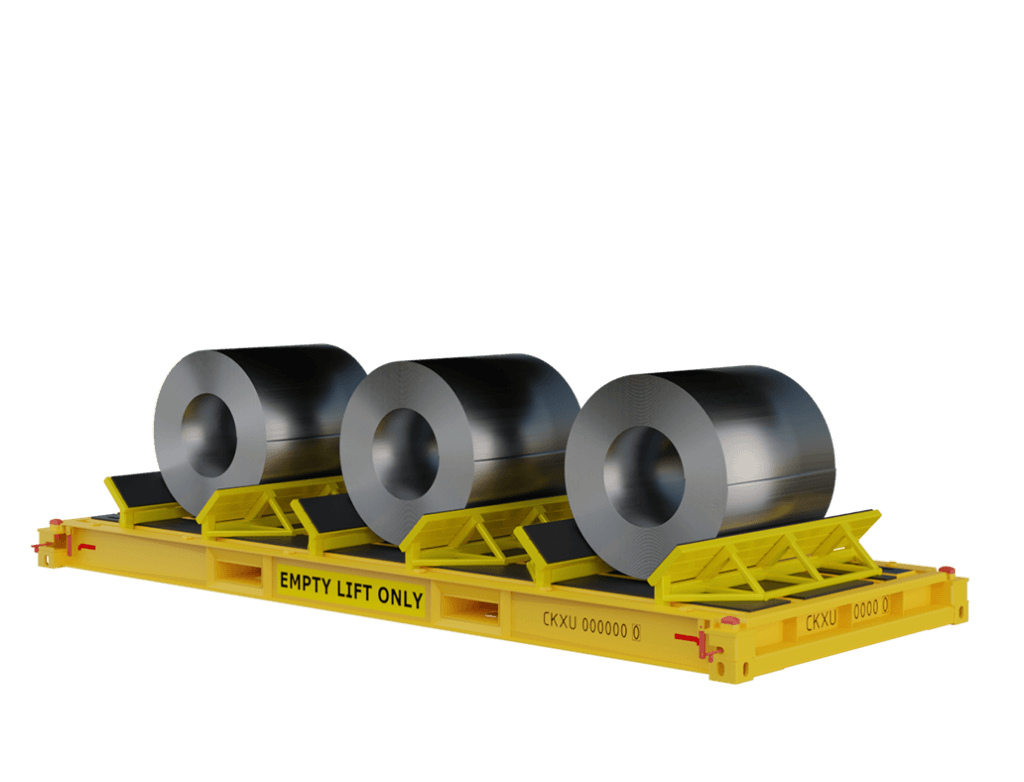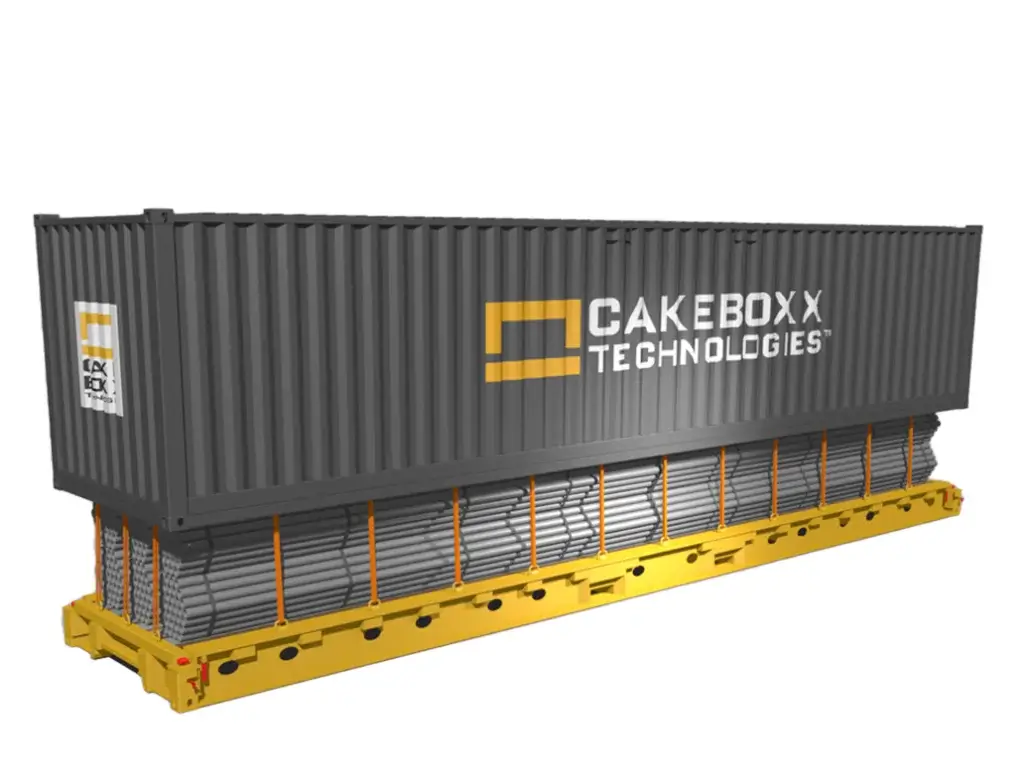 Recycling, Green Steel and Lightweighting
Lighter. Stronger. Green Recapture. Green Recycling.
Green steel simply defined is steel with the lowest carbon footprint currently possible. A Green Steel circular supply chain starts at steel scrap, enabling efficient capture and collection of discarded steel at the end of its life and then transporting and remaking it into sellable steel using an incredibly low emissions process. This enables businesses to deliver the environmental and energy benefits of recycling while offsetting costs in the process.
CakeBoxx custom containers and platforms for the steel industry are optimized for all modes of upstream and downstream transport, and are lighter and stronger than other vessels, delivering extraordinarily efficient supply chain velocity to and from recycling and manufacturing locations.
These solutions enable steel to be collected, transported, and recycled more efficiently, faster, and at a lower cost than previously available methods.
According to
The World Economic Forum…
"Producing steel from secondary source steel scrap with clean electricity results in a very low-emitting circular material. This bodes well for steel as the world transitions to a carbon-neutral circular economy, as steel will be increasingly favoured over other materials in overlapping applications with less circular and less carbon-neutral potential.
"…based on the circularity and carbon-neutral credentials of scrap-based steel, we should strive towards even higher recovery rates
"Steel has excellent circularity properties. Whereas other materials are often downcycled at their end of life, for many applications, steel scrap can be turned back repeatedly into new steel, retaining its original properties.
Contact CakeBoxx
We love developing sustainable, optimized supply chains for your high-value, high-consequence, and oversized cargo
Simply provide your contact info and we'll look forward to discussing your needs: