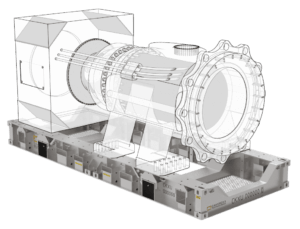 After four record years of revenue growth supporting the world's leading energy and power systems companies, CakeBoxx Technologies is excited to announce the launch of our Danish operating company, which opens on 1 February 2023 in Aarhus, Denmark.
This expansion builds on our success in the United Kingdom and Europe and will further enhance our ability to develop sustainable, modular, high-performance supply chain systems for our EMEA headquartered customers and their most important cargo.
After the success of CakeBoxx Technologies' U.S. supply chain platform business which launched in 2015, today's announcement signifies our commitment to expanding our systems engineering services and platform products for high-value, high-consequence cargo in Europe. These solutions, along with light-weighting, green steel, and high-performance modularity offerings help CakeBoxx customers lower costs, accelerate delivery times, and meet sustainability targets, as well as spurring the adoption of green shipping, 3PL solutions, and green trade lanes.
CakeBoxx Technologies CEO Daine Eisold commented,
"Over the past 24 months, our multinational customers have been asking for enhanced visibility, carbon monitoring, measurement, and tracking to be integrated into their most valuable shipping, intermodal and transloading systems. With the formation of CakeBoxx Technologies ApS, we will now embark on applying our supply chain systems engineering and platforms expertise to smart containers and connected, digital 3PL platforms to enhance supply chain sustainability, velocity, and delivery."
Read the Full Press Release